"I just had the princess cake from Victoria Bakery and it changed my life. It is literally a ray of light in these dark times. I think about it even when I'm not eating it."
"Everyone is so pleasant ! Delicious cookies and delicious coffee ground the way I like it. Thank you!"
"Absolutely fantastic cake, efficient and courteous service - a total thumbs-up ????"
"I really appreciated the enthusiasm that the sales person showed for my occasion. She was very helpful and enthusiastic."
"Fantastic experience from order to pick up! Everyone loved the Princess cake! Thank you!"
The original Victoria was found by four Italian immigrant bakers in 1911 in San Francisco, and became a great success soon after. One of the bakers had a daughter named Victoria and the rest of the bakers were happy to name the business the "Victoria Pastry Company".
In their peak of growth the bakers expanded to Greenbrae and started taking their wedding cake orders from generations of Bay Area residents in both locations. Over the years determination to adhering to the incredible cake and pastry recipes brought by these bakers was the key in Victoria's grand success. The four bakers compiled all their best recipes in one single book. Today, the very old and mostly hand written recipe book is kept at the Victoria Bakery & Café
in Greenbrae. Although the pages are partially torn and discolored, it still functions as "the go to book" when there is any doubt among the young bakers and cake artists.
We are proud to offer our baked goods using many of same recipes from 100 years ago atVictoria Bakery & Café. All products are handmade right in the bakery, and we bake seven days a week.
We are determined to continue to follow the recipes and techniques closely, despite the fact that it takes us longer to make our products using the traditional ingredients and methods. You, our loyal customers know and taste the difference in real butter, quality flour, finest chocolate, handpicked fruits and premium dairy products along with the best coffee we could find.
The mission of Victoria Bakery & Café is never to give in to less than ideal and offer the finest products and services to our customers. As a team, we take pride in the quality we present and cherishing our customers' trust and loyalty in us.
1911
Family-Owned
Established in San Francisco by Italian immigrants.
1985
Move to Marin
In 1985 Victoria branches out and lands in Marin.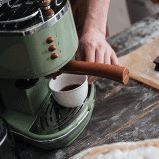 2006
Roasting Coffee
A custom San Franciscan roaster allows Victoria to roast fresh coffee right on site!
2019
Looking Forward
New ownership are excited to take Victoria into the next century.